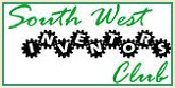 South West Inventors Club - Yeovil Based mutual support group for novice inventors in Somerset, Dorset, Devon and the surrounding area.
Andrew is chairman of  the South West inventors club, and strongly urges anyone who is thinking of developing an idea to join an inventors club, preferably ours!!

WHAT YOU GET
A confidential forum to give and/or receive valuable advice or information
Pointers to professional contacts/funding
A friendly atmosphere among like minds
A social life
Discounts! - possibly
Visit Our Website Now!