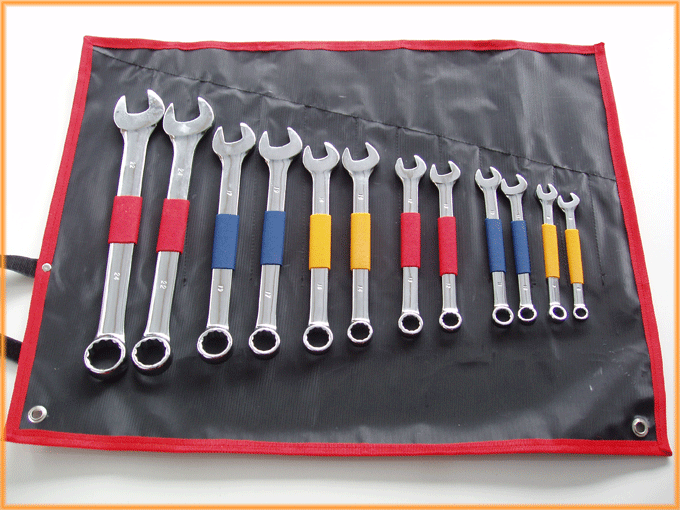 Successfully launched in 2002, Twin-Set has been developed to provide two sets of spanners for the same number of tools as in one normal set. This has been achieved by instead of having an open end and ring of the same size, each spanner has one size at the open end and the next size up at the ring end, with the next spanner having the sizes reversed.
The latest developments include the use of an enhanced and higher quality steel grade. Made from top quality, drop forged, chrome vanadium steel, Twin-Set spanners have been torque tested and found to be stronger than other higher priced brands. They now come with a ten years guarantee.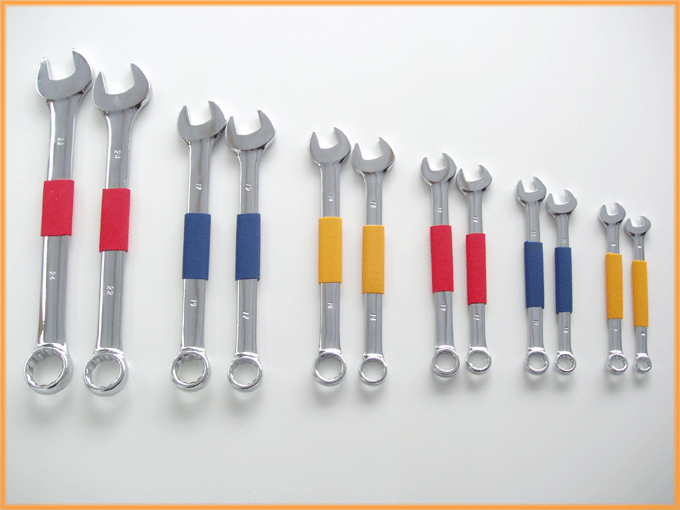 Other developments include colour-coding of the spanners in pairs for easy selection and an improved tool roll, which now has easy to read size markings. In addition, the roll is fastened with a strong hook and loop strap for easy rolling and secure storage.  
Twin-Set is aimed particularly at the agricultural market although it is equally usable and beneficial to the industrial, automotive and marine industries. It is ideal for being carried on any machine, which works away from its base. Comprising six pairs of metric spanners and providing 12 sizes, ranging from 24mm down to 8mm, it offers the key benefits of two same size spanners available at one time or enables two people to work on a machine at the same time.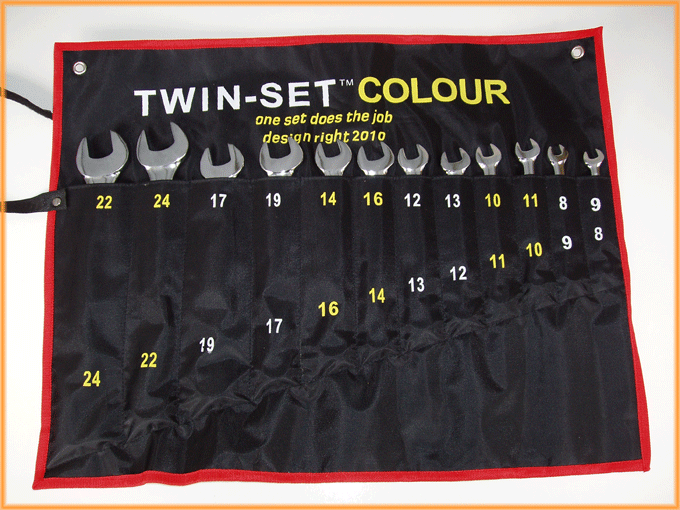 A lot of thought has also been put in to the tool roll, it has the spanner sizes marked on it, alternately in yellow and white for each pair of "twins". Very unusually it has been made so the tops of the spanners are roughly parallel to the top of the tool roll, so folding the tool roll over the top of the spanners and rolling it up will retain ALL  the spanners, and to complete the job there is a strap of double sided hook and loop material which just needs wrapping around once to make a very neat and tough package. This need not even take up space in a tool box as it is made of a very tough material called "Tetron", well capable of being stuffed into any available small gap, behind a seat etc.
To "Buy Now" go to our home page.